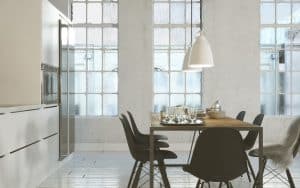 The Consumer Product Safety Commission (CPSC) reports that IKEA, the furniture giant, is voluntarily recalling its GLIVARP extendable dining tables in white because the table's glass extension poses a serious threat of laceration. Per the CPSC notice, the "table's glass extension leaf can detach and fall unexpectedly." Approximately 8,200 units have been recalled, and customers are entitled to a full refund or a replacement.
The models in question have a supplier number on the underside of the table frame: 12003. They tables are quipped with four steel legs, and measure 29" (H) by 49" (L). They retailed for about $300, and were sold between February 2017 and October 2018.
Customers can call IKEA toll-free at 888-966-4532, at any time. For more information, please go to www.ikea-usa.com and click on "Press Room" link at the bottom of the page, then on "Product Recalls "at the top of the page.
This marks IKEA's fifth recall this year
IKEA has seen an increased number of recalls from 2017 (two in total) to 2018 (though so far, 2018 has seen fewer recalls than 2016). Other recalled products include:
Bags of GODIS PÅSKKYCKLING, marshmallow candy (100g) for potential contamination
SLADDA bicycles because of defective belt drives, posing a fall hazard
LURVIG water dispensers because pets were at risk of suffocating
CALYPSO ceiling lamps after 19 incidents where the lamps detached and fell from the ceiling
My IKEA table leaf fell out and cut me; what can I do?
If you sustained an injury related to a defective GLIVARP table from IKEA – or from any piece of furniture created by any manufacturer – you may be able to make a claim for compensation for your lost wages, your medical expenses, and your pain and suffering. This type of claim is called a product liability claim. In Arizona, you only have two years to file a product liability claim, and you must be able to prove that you sustained injuries as a result of the defective product. This is because of the intermediate rule version of the Economic Loss Doctrine (ELD), which (essentially) states you cannot file a claim for economic damages alone. Furthermore, your damages can be diminished if you were found to be at-fault for your own injuries in any way.
If you were hurt by a defective product, your best bet is to talk to a Phoenix product liability lawyer as soon as you can. Here at Plattner Verderame, P.C., we'll give you honest, practical counsel about your chances and your case, so you can make the best decision for you. To schedule a no-cost, no-obligation consultation, please call 602-783-8793, or contact us. We proudly represent clients throughout Arizona.