Adaptive Driving Beams Are Almost Here
Some drivers have mixed emotions concerning nighttime driving. While some people do not mind driving at night, many are concerned that the visibility issues will lead to a traffic accident, even with the use of headlights.
The National Safety Council reports that the vast majority of pedestrian deaths occur during dark lighting conditions, peaking on Saturdays. It is important for drivers to be able to see what is ahead of them at all times. This is why organizations such as the Insurance Institute for Highway Safety (IIHS) test the performance and safety of vehicle headlights.
How the IIHS tests headlights
The IIHS has been testing headlights for four years and has come to the conclusion that few vehicles tested contained "good" headlights. To test the effectiveness of headlights, the IIHS evaluated headlight usage during the night hours to measure the amount of light thrown out by both low beams and high beams.
The vehicles were also tested through various situations, such as how the vehicle operated on straight roads or roads with different curves. In 2017, for example, half of the luxury SUVs tested by the IIHS contained headlights that were either marked marginal or poor. The headlight performances for non-luxury SUVs were even worse, with 14 out of the 19 nonluxury SUVs receiving a marginal or poor headlight rating.
Want to see how your headlights measure up? Check out the IIHS ratings system here. Or, you can review all the Top Safety Pick+ winners here.
How do headlights affect a driver's safety?
The testing of headlights from the IIHS illustrates the importance of effective headlights for a vehicle. During nighttime when visibility is low and the driver's ability to see at greater distances is reduced, weak or ineffective headlights can cause a driver to become involved in a serious traffic accident.
If there are other factors such as inclement weather conditions, the driver's field of vision can be altered, causing them to miss oncoming hazards or a pedestrian. Improved headlights help the driver not only to notice other motorists or pedestrians, but also help their own vehicle's visibility.
What are adaptive driving beams?
One recent provision included in the 2021 Infrastructure Investment and Jobs Act will address the IIHS's concern with headlight safety. The new infrastructure bill has incorporated a new provision that makes the use of adaptive driving beams legal for all vehicles in the United States.
Adaptive driving beams are the special headlights found in many European vehicles that have the ability to independently adjust their high and low beam illumination based on the surrounding environment. Depending on the company, adaptive driving beams have the ability to contain additional features, such as displaying warning or alerts directly on the pavement.
These headlights have the power to illuminate the road with a constant beam that is as bright as a traditional high beam headlight. Instead of waiting for the driver to adjust their headlights from low beam to high beam, or vice-versa, adaptive driving beams use cameras and sensors to change the brightness, direction, and shape of the light.
This capability can either be done with a shutter system that physically blocks part of the headlight beam, or with a matrix-style headlight unit composed of multiple light sources that can be turned on and off when needed. Adaptive driving beams also have the ability to shift the direction of lighting, depending on the vehicle's steering inputs.
The benefits of adaptive driving beams
Most of today's vehicles are operating with ineffective or weak headlights that limit a driver's vision and operating abilities. Adaptive driving beams have the ability to read the environment around the driver and apply the proper amount of light where it is necessary. Some drivers are guilty of adjusting their high beams during the most inappropriate times, making it difficult for other motorists to maintain their visibility.
Adaptive driving beams help to resolve this issue by providing the appropriate amount of light based on the surrounding conditions. The use of sensors in the adaptive driving beams helps to eliminate any strange shifts in brightness.
Adaptive driving beams can also make it easier for drivers to navigate roads in poor weather conditions. Special weather conditions like fog, rain, and snow weaken a driver's visibility and reduce the ability to see upcoming road hazards. While adaptive driving beams may not be able to resolve all issues associated with poor weather conditions, they do have the ability to illuminate the road ahead with much better accuracy than a usual low beam or high beam headlight. Adaptive driving beams also have the ability to adjust the shape of the light beam and incorporate special fog lights for better visibility.
Another benefit of adaptive driving beams is that they have the ability to illuminate the appropriate amount of a surrounding environment while making sure that other drivers and pedestrians are not blinded. Adaptive driving beams have the technology to locate surrounding drivers and pedestrians, and keep the brightness and lights out of their eyes. If there is an oncoming vehicle, the adaptive driving beam automatically dims around it while the rest of the road remains illuminated by bright light. This allows a driver to maintain their visibility without reducing anyone else's.
As a firm that has always pushed to have safety features be standard in all vehicles, we are thrilled that adaptive headlights will finally be available in the U.S. We hope that this feature will reduce the number of wrecks at night. If you were injured in a car accident for any reason, we can help. At Plattner Verderame, P.C., we proudly provide honest people with top-notch legal representation when they are hurt in an accident that was not their fault. Call us at 602-266-2002, or contact us through our contact form to learn how our experienced injury attorneys can assist with your case. We represent clients in Phoenix and Tempe.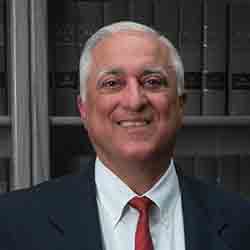 Partner Frank Verderame is a seasoned trial attorney, who has dedicated his life to helping victims of serious injuries. He is a Board Certified Specialist in Personal Injury and Wrongful Death Litigation, and has been an active part of legal communities and organizations since he started his practice, back in 1983.
Read more about Frank Verderame