Auto Insurance Coverage in Arizona
Choosing the right insurance can be a challenge. The policy language is dry and filled with "legalese," and the costs can be high. Frank Verderame and Nick Verderame put together these short videos to address some of the more common questions we get about auto insurance, so you can make informed decisions about what is best for you and your family.
What Should My Auto Insurance Cover?
When you buy auto insurance you should make sure you have liability insurance, which covers you if you're at fault for the crash. You should also make sure you have medical payments coverage. That pays you no matter who's at fault for the crash, and it covers your medical bills. To the extent that you have a deductible on your health insurance policy, you will still want that kind of coverage because it'll help pay for your deductible. There's also uninsured motorist and underinsured motorist, which is perhaps the most important insurance you could buy because there are many motorists out there who either don't have any insurance, or don't have enough insurance to cover your injury. You want to make sure you cover yourself.
There's other types of coverages like rental car and other things that you can buy, but those four are probably the most important ones. Unfortunately, to be fully covered under Arizona law, you only have to have a minimum amount of insurance that's set by the legislature. That is far too low. The number that was put in that statute was put there back when gas cost less than a quarter and so did a carton of milk. Now, it's 10 times that much, but they haven't raised the limits. You should raise your limits. You should check your policy and read it.
What Does "Full Coverage" Mean?
"Full coverage" auto insurance is a phrase that we hear a lot, but it means nothing. So, when you're buying auto insurance, don't take the answer from your insurance agent that you've got full coverage to mean that you're good to go.
When you're buying auto insurance, you should be getting collision coverage, liability coverage, medical payments, uninsured and underinsured coverage. Underinsured and uninsured coverage means that you'll be covered if you're hit, and injured, by someone who does not have enough insurance to cover your injuries. In that case, your UM or UIM coverage would step in to their shoes to compensate the claim.
If you've been injured, and you need a Phoenix injury attorney, you can reach us at Plattner Verderame online, or by calling us at 602-266-2002.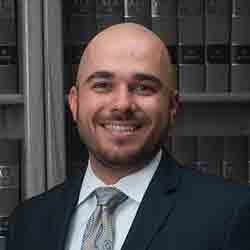 Nick is a member of the State Bar of Arizona, the Arizona Association for Justice (formerly the Arizona Trial Lawyers Association) and the American Association for Justice (AAJ). He currently serves on the AAJ's Political Action Task Force and its Oversight Committee, and on the Board of Governors for Revitalization in Arizona.
Read more about Nick Verderame