Boppy Recalls Over Three Million Baby Pillows Following Eight Infant Deaths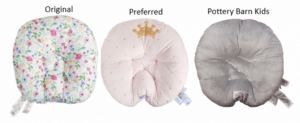 The Consumer Product Safety Commission (CPSC) announced a recall of several varieties of the Boppy Company's newborn loungers for suffocation risks, after linking the product to the deaths of eight babies. These recalled products include Boppy Original Newborn Loungers, Boppy Preferred Newborn Loungers and Pottery Barn Kids Boppy Newborn Loungers. The infants reportedly suffocated after being placed in the loungers either on their backs, stomachs, or sides.
The recall, announced September 23 by the CPSC and The Boppy Company, states consumers should immediately discontinue use of the recalled products and contact the Boppy Company for a refund. Said a spokesperson for Boppy:
"We are devastated to hear of these tragedies. Boppy is committed to doing everything possible to safeguard babies, including communicating the safe use of our products to parents and caregivers, and educating the public about the importance of following all warnings and instructions and the risks associated with unsafe sleep practices for infants. The lounger was not marketed as an infant sleep product and includes warnings against unsupervised use."
CPSC Chairman Robert S. Adler added, "These types of incidents are heartbreaking. Loungers and pillow-like products are not safe for infant sleep, due to the risk of suffocation. Since we know that infants sleep so much of the time – even in products not intended for sleep – and since suffocation can happen so quickly, these Boppy lounger products are simply too risky to remain on the market."
Which Boppy products are being recalled?
The recall includes all Boppy newborn loungers, sold in a variety of colors and styles, measuring about 23 inches long, 22 inches wide, and 7 inches high. Boppy sold approximately 3.3 million of these loungers at different baby and mass merchandise stores nationwide and online, including Amazon, Pottery Barn Kids, Walmart, and Target. The loungers were available to consumers from January 2004 through September 2021. Boppy also sold about 35,000 loungers in Canada.
What should I do if I have a Boppy lounger?
The Boppy Company and the CPSC recommend that consumers stop using the lounger immediately and contact Boppy for a refund. You can reach The Boppy Company toll-free at 800-416-1355 from 9 a.m. to 5 p.m. ET Monday through Friday or online at www.boppy.com and click "Recall & Safety Alert" for more information.
Why infant nursing pillows and loungers are so dangerous
This recall comes less than a month after Consumer Reports raised alarms about Boppy loungers and other similar infant products, reporting seven infant deaths (at the time) tied to the Boppy pillow. These types of lounging pads and pillows are meant to make nursing easier and more comfortable. However, as Consumer Reports explains, "when babies are left unattended or sleeping on these products, they may roll over or their heads may fall in such a way that can block their airway and lead to suffocation."
Consumer Reports noted in their investigation several incidents of infants suffocating after falling asleep on Boppy pillows. Oriene Shin, policy counsel for the publication, asked at the time, "Parents and caregivers—Boppy's customers—need answers. What concrete steps will Boppy take to keep babies safe? Will Boppy make design changes to prevent the unimaginable from happening? Right now, Boppy isn't saying, even in light of the recent infant deaths. If the company won't take action on its own, the CPSC should require it."
With this defective product recall, it appears the CPSC listened.
For infants and sleep, "Bare is Best"
Back in October 2020, the CPSC issued a warning to parents regarding the dangers of using nursing pillows for sleep. Reporting that nearly a thousand infants suffocate in their sleep each year, they reminded parents and caregivers that "pillow-like infant products, including nursing pillows and 'lounging pads,' are not designed for sleep and are not safe for sleep."
Their recommendations for safe sleep include:
Never allow an infant to nap or sleep on nursing pillows or any soft, pillow-like product (no matter what the brand).
Do not use infant sleep products with inclined seats more than 10 degrees. Additionally, parents and caregivers should not let infants sleep or nap in car seats, bouncers, or other inclined products. These can cause suffocation and are the subject of several lawsuits and recalls.
When putting an infant down for sleep, Bare is Best. A baby's sleep environment should be free of pillows, blankets, padded bumpers, and other items like stuffed animals and toys. Always place an infant on their back to sleep, on a firm and flat surface.
Consumer Reports also recommends, "babies be put to bed only in products that meet federal safety requirements for infant sleep, such as a bassinet, crib, or play yard. If you're having a hard time getting your infant to sleep, ask your pediatrician for tips rather than using an unsafe positioning product."
The CPSC also asks consumers to report any incident experienced with an infant pillow product to SaferProducts.gov.
If your infant was harmed by a defective product, the product liability attorneys at Plattner Verderame, P.C. want to help protect your rights. We provide quality legal representation to the people who need it most. Contact us today to talk about your case. To speak with an experienced lawyer today, please call us at 602-266-2002 or complete our contact form. We have offices in Phoenix and Tempe.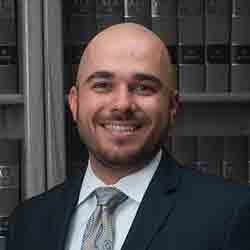 Nick is a member of the State Bar of Arizona, the Arizona Association for Justice (formerly the Arizona Trial Lawyers Association) and the American Association for Justice (AAJ). He currently serves on the AAJ's Political Action Task Force and its Oversight Committee, and on the Board of Governors for Revitalization in Arizona.
Read more about Nick Verderame