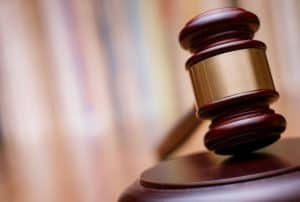 A jury in San Francisco ruled in favor of a man who claimed that Roundup, the world-renowned weed killer, caused him to contract non-Hodgkin's lymphoma. Dewayne Johnson, a husband, former schoolteacher, and father of two children had his case expedited because of his terminal diagnosis. In California, plaintiffs who are terminal have the right to a speedy trial.
Johnson's victory sets a precedent upon which other cases against Monsanto regarding the effects of its popular herbicide may find future success.
The jury verdict
The jury took three days to deliberate the case which was tried before the San Francisco Superior Court. In its verdict, it awarded Johnson $39 million in compensatory damages and $250 million in punitive damages, per USA TODAY. Johnson's attorney stated that the jury's judgment will enable his client to live the remainder of his life in "extreme comfort," but it doesn't change the dire health situation he faces. Monsanto requested a "judgment notwithstanding verdict," in the hopes of having the punitive damage award thrown out. Instead, on October 24th, the judge slashed the $250 million to $39 million, for an award totaling $78 million.
As USA TODAY explains, the carcinogenic attributes of glyphosate are highly contested. The EPA has decided it is not, "But, the World Health Organization has classified glyphosate as 'probably carcinogenic,'" and Monsanto's lawsuit against California's Office of Environmental Health Hazard Assessment (brought because the OEHHA listed glyphosate as a carcinogen) lost in court. USA TODAY reported that U.S. District Judge Vince Chhabria, who previously thought the connection between glyphosate and cancer "weak," this time found that "the opinions of three experts linking glyphosate and non-Hodgkin's lymphoma were not 'junk science.'"
After the verdict, Monsanto stated that it still supports more than 800 scientific studies and reviews that indicate its widely used weed killer, Roundup, does not produce cancer. The company will appeal the decision of the jury that its product is defective, a product which has been used by farmers and others over the span of four decades. During the appeal process, Johnson will receive interest on the stated damages, amounting to approximately $25 million per year.
Events leading up to the cancer diagnosis
Johnson worked for a school district near San Francisco as a groundskeeper who applied Monsanto's Roundup weed killer on a regular basis – as much as 30 times per year. He experienced two accidents during that time period that left him covered with the product. Subsequently, he developed a rash that would not disappear on its own, eventually leading him to visit a doctor. In August 2014, he was diagnosed with epidermotropic T-cell lymphoma.
Even after he received the lymphoma diagnosis, his job required him to use Monsanto's glyphosate-based herbicides. Throughout 2015, Johnson received chemotherapy treatments, but the cancer continued to progress. Johnson received a biopsy in September 2017 that revealed the presence of mycosis fungoides, which is non-Hodgkin lymphoma with large cell transformation.
On his worst days, Johnson is weak enough that he is simply unable to speak. Lesions cover almost 80 percent of his body. Prior to the jury's ruling, Johnson's wife had been working excessive hours to support the family – two separate jobs at 40 hours per week each. With this legal settlement, she will now be able to spend time with her husband and children.
Are you currently suffering the physical and financial consequences of your exposure to Monsanto's weed killer Roundup? At Plattner Verderame, P.C., our experienced Phoenix defective product attorneys have the skills and resources to advocate strongly for the compensation you deserve in the aftermath of your injuries and losses. To arrange a free consultation about your case, call us today at 602.783.8793 or use our contact form to send us a message. We represent clients throughout Arizona.