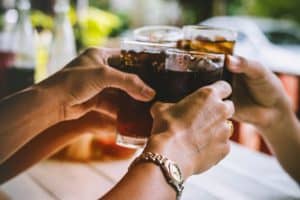 Fraternity membership, also known as Greek life, has become synonymous with alcoholic overindulgence, misbehavior, and lack of consequences. Families across the country are becoming wary of allowing their children to pledge a fraternity or sorority in the wake of widely publicized incidents such as the alcohol-related death of Tim Piazza at a Penn State Beta Theta Pi fraternity house, Blake Novacek's hazing-related traumatic brain injury at Gamma Phi, Ryan Abele's hazing death at a University of Nevada Sigma Nu fraternity house, and other wrongful deaths and catastrophic injuries too numerous and tragic to list.
While some dry organizations exist – academic fraternities are dry, and some fraternities, like Phi Delta Theta and FarmHouse Fraternity, insist on dry housing – social Greek life is commonly built around alcoholic excess. College kids come and go in a few short years, but fraternities last for decades; often many decades. Fraternities live or die by attracting dues-paying members. And one of their main attractions is providing alcohol to underage members.
Most kids start college at age 18, but the legal drinking age is 21. What's the easiest way to get access to unlimited alcohol your first three years of college? Join a frat. Fraternities protect themselves with sophisticated "risk management" programs that don't reduce the risk of danger – they reduce the risk of the fraternity being held accountable.
Fraternities all claim to forbid hazing and underage drinking, but few provide any meaningful adult supervision. The members know not to tell the employees of the national fraternity, who are usually far away, the truth that the local chapters are continuing to follow traditions of hazing and binge drinking. And when the inevitable tragedies strike, the national frat instructs the members to hide evidence out of misplaced loyalty, and then says "How were we to know? What could we have done?" But in fact, the few fraternities which provide adult supervision have much reduced incidence of injury or death.
Accountability breeds responsibility
As long as society looks the other way and dismisses risky behavior, saying "boys will be boys," the injuries and deaths will keep piling up. Fraternities will keep raking in money from students whose membership puts them in harm's way – and risks harming us all. If you have an opportunity to make fraternities enforce their own rules, to make the world safer for their young members and for all of us so tragedy is avoided, please do what you can. If tragedy has already struck and a wrong needs to be righted, call Plattner Verderame.
At Plattner Verderame P.C., we work for honest families who have suffered injuries and losses through no fault of their own. We take these cases on a contingency-fee basis, which means you don't owe us anything unless your case is successful. Call us today at 602-783-8793 or contact us to find out how our team in Phoenix can help your family get justice.