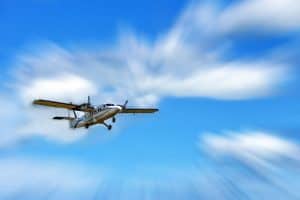 A small plane crashed at the TPC Scottsdale Champions golf course on Monday night, killing all six people aboard. The Piper PA24 Comanche left Scottsdale Airport for Las Vegas, but crashed soon after take-off. The golf course is less than a mile away from the airport, and the plane burst into flames after crashing. The names of the victims have not yet been released.
What we know, so far, about the plane crash
Per AZCentral.com, the plane was built in 1970 and officially registered as a 4-seater plane, but Elliot Simpson – a spokesman for the National Transportation Safety Board (NTSB) –  "said there were various iterations and modifications that could have been made that year, expanding its seating capacity."
The NTSB is currently investigating the crash, but it could take up to 18 months before the probe is finished. A preliminary report should be completed within the next 10-14 days. The Federal Aviation Administration (FAA) is also investigating.
Small plane crashes are more common than commercial plane crashes
Though major airlines tend to get more airplay when there is a crash, "general aviation accidents" (the category that contains small planes, balloons and other smaller craft) are more common. According to an FAA release from April 4, 2018, while the number of general aviation crashes is decreasing, there were still 209 GA accidents in 2017, which led to the death of 347 people.
According to the FAA, "Inflight loss of control – mainly stalls – accounts for the largest number of GA fatal accidents." To further reduce the number of accidents in the future, the agency has created almost 40 "safety enhancements," designed to address inflight loss of control. Along with policy changes, the GA Joint Steering Committee (GAJSC) – under and along with the FAA – has created resource guides, granted access to data to all airmen, developed new technologies to make flying safer, and "updated key elements of the airman certification system to include an enhanced focus on risk management."
For all of this, however, there is still one issue – not all certifications are equal. For example, to become a licensed pilot for private planes, you must complete at least 40 hours of flight time – a week's worth of work, to put it in perspective. Recreational pilots must have 30 hours. Sport pilots must have 20 hours, and as one CNN reporter explains, "a light sport license could cost under $5,000 and take a dedicated student less than two weeks to finish."
To fly a drone or a balloon, you don't need any certification at all.
In contrast, commercial pilots must have at least 1,500 hours of flight time. By the time they are allowed to fly a commercial plane, these pilots have undergone intense training, practice and flying, and it can take years to complete. A private plan operator, however, is not required to undergo such training, which might explain why inflight loss of control and stalling are the most common causes of small plane crashes.
Our hearts go out to the families of the victims. All of us at Plattner Verderame, PC hope the investigation wraps as quickly as it can, so that the families might find closure and peace.