Homeowners Insurance Covers a Wide Range of Injuries
A wide variety of injuries can take place on private property, including the home of a neighbor, family member or friend. While people who were injured under such circumstances may be timid about seeking help with resulting medical expenses and other losses from parties they know, they should always bear in mind that the owner's insurance policy likely provides coverage for many incidents.
Insurance companies offer homeowners polices to protect customers from property losses due to theft, fire, vandalism, weather and other causes. But basic policies also may cover claims for bodily injury and damage to another party's property. Common examples include injuries related to a swimming pool, dog bites and other harm caused by pets, and many unintentional acts such as accidental shootings. But an insurance policy may also provide coverage for intentional torts such as wrongful eviction, false arrest and even libel, slander or defamation of character.
Exploring All Options When Another Person's Negligence Causes an Injury
Seemingly minor injuries can have long-term implications. A slip-and-fall on a poorly maintained sidewalk or stairway is a classic example. But even an injury that occurred off the property may be covered. At Plattner Verderame, our personal injury lawyers successfully secured compensation for the mother of a fisherman who was shot accidentally by another camper when the fisherman stopped by the neighboring campsite to say hello and startled the armed camper awake. The gun owner's homeowners insurance was an important source of compensation after the plaintiff's personal injury lawyers obtain a significant wrongful death settlement.
Injured parties and wrongful death survivors should always act quickly in the aftermath of a serious accident or other cause of damages. By assessing the full extent of the harm suffered and investigating the circumstances, an attorney may be able to identify potentially liable parties and additional sources of compensation that did not occur to the victim or surviving family members.
One vital service provided by legal counsel is the ability to investigate all assets and insurance coverage of the people who caused the client's loss. This is a skill that is honed by experience with personal injury claims and trial practice. By consulting with a lawyer, an aggrieved party can learn more about their legal options.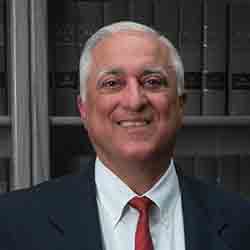 Partner Frank Verderame is a seasoned trial attorney, who has dedicated his life to helping victims of serious injuries. He is a Board Certified Specialist in Personal Injury and Wrongful Death Litigation, and has been an active part of legal communities and organizations since he started his practice, back in 1983.
Read more about Frank Verderame