UPDATED: Recall Issued for Exactech Connexion GXL Acetabular Liner in Hip Replacements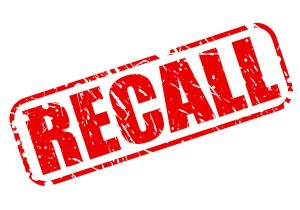 A recall was issued this past summer for Exactech Connexion GXL acetabular liner in hip replacements by the device manufacturer, Exactech Inc. The recall was issued due to early failure of the liner from wear and tear. It is possible that patients who had this liner implanted during a revision or primary hip replacement surgery might require an additional procedure to repair the damage caused by the medical device.
In the recall issued by Exactech Inc., the company stated that there is "Risk of edge-loading and premature prosthesis wear is possible in a specific subset of patients with certain implant configurations and surgical implant positioning." If you or a loved one has an Exactech Connexion GXL acetabular liner in a hip replacement device, Plattner Verderame, P.A. may be able to help. Contact our Phoenix product liability attorneys to learn more.
Explanation of the Exactech hip liner recall
Exactech supplied a letter (see here) for surgeons and healthcare facilities to use when warning patients about the risks of failure of their hip liners. The following is their suggested explanation for the recall:
As shown in the diagram below, a standard knee replacement has four parts:
The femoral component (this is the metal piece that attaches to your thigh bone, also known as your "femur")
The tibial tray (this is the metal piece that fits into your shin bone, also known as your "tibia")
The patellar component (this is the piece of plastic that fits onto your kneecap, also known as the patella)
The tibial polyethylene (plastic) insert (this is the plastic that fits between the femoral component and tibial component and acts as the new cushion or cartilage for your replaced knee joint)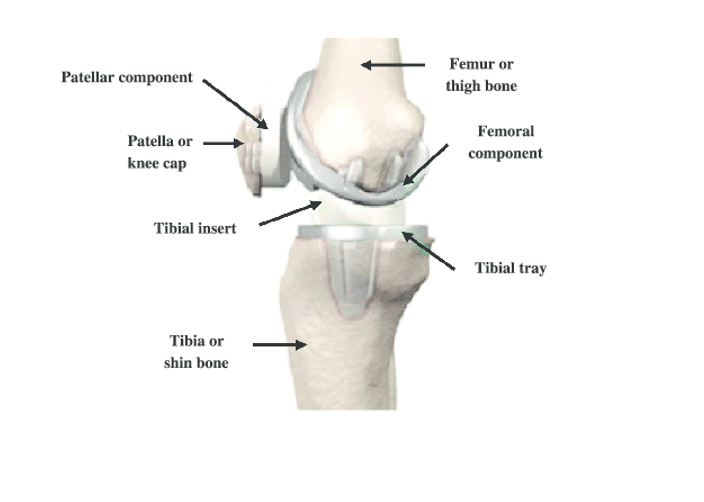 During a recent review of its knee implant manufacturing process, Exactech learned that one of the packaging layers for the plastic insert has been out of specification and may allow oxygen from the air to diffuse into the plastic insert prior to it being implanted in your knee. If a large amount of oxygen diffuses into the plastic insert while it's being stored and before it is implanted, this can lead to a process called oxidation, which can cause the plastic to wear out earlier than expected or to become damaged after it is implanted into the patient's body.
Exactech has found that the tibial plastic insert in the out of specification bag can wear out earlier than expected in some patients. Premature wear of the plastic insert of your knee replacement can lead to the need for additional surgery (also known as revision surgery). In those cases where the plastic has worn out earlier than expected or has been damaged, we will evaluate your knee replacement and decide whether additional treatment is needed. Determination of whether the plastic is worn is accomplished by examining your knee in the office and obtaining x-rays. After this evaluation is complete, we will decide if additional treatment, including revision surgery, is necessary.
Study discovers early failure of the Exactech hip liner
A recent study conducted by the Department of Orthopedics and Rehabilitation at the University of Florida College of Medicine has found that the Exactech hip liner has suffered early failure in some patients. The doctors who took part in the study reviewed documentation of all patients who underwent revision surgery after initially having a complete hip replacement between the years of 2009 and 2019. These patients were implanted with the Exactech Connexion GXL acetabular liners at this medical institution.
The doctors discovered that every single patient who underwent revision surgery or was recommended for revision surgery had suffered radiographic osteolysis near the Exactech Connexion GXL acetabular liner that had been implanted in their body. What this means is that the patients had suffered bone loss that was visible on x-rays.
"The Exactech Connexion GXL liner may be prone to a high rate of early failure from wear and severe secondary osteolysis. We recommend close surveillance of patients with this bearing surface," the authors wrote.
Adverse events from the FDA
The authors of the study also conducted a database review of the hip replacement product via a U.S. Food and Drug Administration (FDA) Manufacturer and User Facility Device Experience (MAUDE). The database review was conducted to determine if any adverse effects had been reported to the FDA in relation to this hip replacement device.
The review of the database found 83 patients who underwent a revision procedure after receiving the Exactech Connexion GXL acetabular liner in an initial complete hip replacement procedure. Of the 83 patients, 22 of them needed to have the revision procedure because they had suffered "poly wear" or "osteolysis." Research from the database found the length of time between the initial hip replacement and the revision procedure was only 6.5 years.
Second study finds osteolysis five years after hip replacement
Surgeons at the Hospital for Special Surgery in New York also conducted a study of patients who underwent hip replacement surgery with the Exactech Connexion GXL acetabular liner. According to the study:
The 5 cases included in this investigation show unusual early excessive polyethylene wear from a modern moderately cross-linked acetabular liner. The exact cause of this early wear is unknown. We believe there may have been a variation in the processing of at least a batch of GXL polyethylene liners that created a predisposition for early wear, as all cups were implanted in an appropriate abduction angle and the patients did not have specific risk factors for early failure other than high activity level. To our knowledge, this is the first report to document the early failure of this specific polyethylene liner, which is still currently being sold. This finding has been reported to the company.
The most concerning finding of the study was how much higher the wear rates were with the Exactech Connexion GXL acetabular liner compared to other devices:
Moderately cross-linked polyethylene acetabular liners have shown favorable wear rates compared to conventional polyethylene, both in clinical trials and in biomechanical models. The purported benefits of moderate cross-linking include decreased wear compared to conventional polyethylene, along with increased fracture toughness compared to highly cross-linked polyethylene. However, the radiographic wear rates in this study were markedly higher than prior studies reporting on either highly cross-linked or conventional polyethylene. The mean linear wear rate among these 5 cases was 0.265 mm/y. In comparison, McCalden et al. reported a wear rate in the first 5 years after THA of 0.003 mm/y for highly cross-linked polyethylene and 0.051 mm/y for conventional polyethylene. The wear rates among these 5 cases were several-fold higher than among previously reported polyethylene components.
What parts of the device are being recalled?
Exactech supplied the following graph of recalled parts: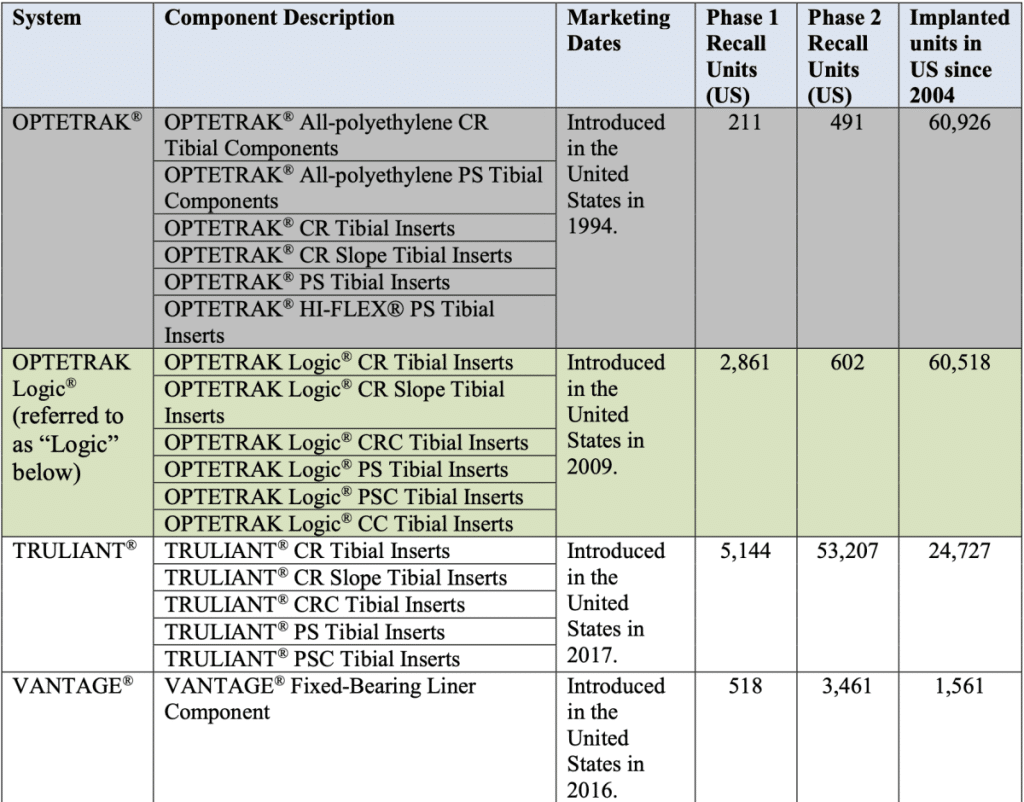 What is a hip liner?
A hip liner is a plastic device that is inserted into the leg of a patient who requires a complete hip replacement because of the deterioration of their natural hip. Oftentimes, the device used to replace a hip is made of metal or ceramic. The job of the liner is to allow the components of the new hip to move freely in the compartment. The hip liner in question is made of irradiated ultra-high-molecular-weight polyethylene (UHMWPE).
Which patients might have received this hip implant?
The most likely patients who might have received this hip implant are those who underwent a full hip replacement procedure. A full hip replacement involves the removal of the natural hip and joints and replacing them with artificial devices and joints so the patient can still easily move. Patients who suffer from the following might have received the Exactech Connexion GXL acetabular liner during a hip replacement surgery:
Osteoarthritis
Rheumatoid arthritis
Osteonecrosis
Congenital hip dysplasia
Bone damage resulting from trauma or disease
What are the symptoms of failure caused by a defective hip implant device?
If you received an Exactech Connexion GXL Acetabular liner during hip replacement surgery, you might suffer from the following symptoms because of the defective product:
Pain
Stiffness
Limited mobility
Loosening
Osteolysis — disappearance or degeneration of bone tissue
If your hip replacement device fails because of a defective liner, you may need to undergo revision surgery to correct the problem. These surgeries can present a number of risks, as any surgeries do, and are often not covered by insurance. At Plattner Verderame, P.C., we do not believe that you should have to pay for an additional hip replacement surgery when the root cause is a failed, defective liner.
Were you or a loved one injured by a defective medical product like the Exactech Connexion GXL acetabular liner in a hip replacement? If so, it's time to speak with an experienced Phoenix defective product attorney at Plattner Verderame, P.C. Call our office at 602-266-2002, or complete our contact form to schedule a consultation today.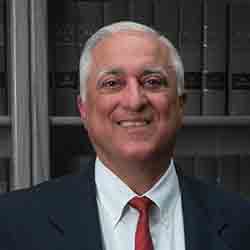 Partner Frank Verderame is a seasoned trial attorney, who has dedicated his life to helping victims of serious injuries. He is a Board Certified Specialist in Personal Injury and Wrongful Death Litigation, and has been an active part of legal communities and organizations since he started his practice, back in 1983.
Read more about Frank Verderame